Australia's potential to become a major player in international AgTech developments is being increasingly acknowledged by our governments. Just this year, the Victorian Government has pumped $27 million into IoT innovation in agriculture. On a Federal level, Malcolm Turnbull released the Talking 2030: Growing agriculture into a $100 billion industry report in March; evaluating the role of technology in the future of Australia's agriculture sector.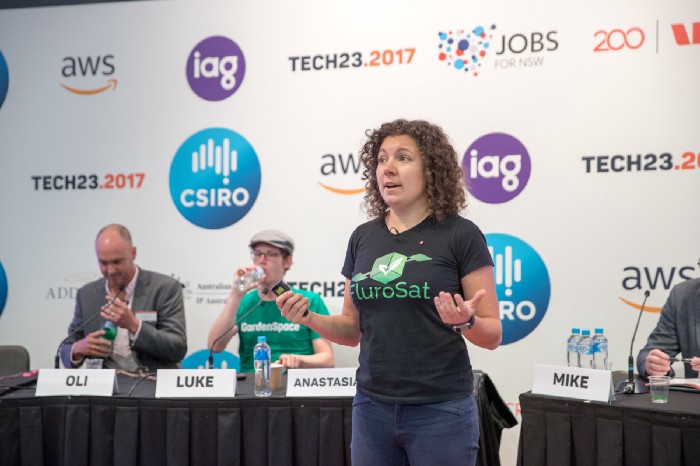 Anastasia Volkova (FluroSat) speaks at Tech23 2017. FluroSat recently raised $1.5 million to drive its US expansion.
But how long did it take for us to get here? At Tech23 2009, a company named HEARD Systems shared the first ever handheld pregnancy testing device for cows; offering a cost-effective way for farmers to assess herd fertility. At a time when smartphones and Twitter were just starting to swim, HEARD Systems brought a unique non-web solution to the tech scene (and AgTech in Tech23 was born!).
This journey continued in 2011 as Agworld, co-founded by Matt Powell, brought to the Tech23 stage a vision of "an 'in-the-cloud' based, real-time data management system for all participants in the agricultural value chain." Raising $6 million in a 2014 Series C funding round, Agworld is now making steady progress with its overseas expansion, and is currently helping US-based farmer cooperative Ceres Solutions streamline its data flow. The success of Tech23 2016 company AgriWebb — who recently secured a $14 million investment from the UK's Wheatsheaf Group — is also indicative of Australia's potential to be a global AgTech innovator.
Moving onto more recent memories — Tech23 2018 hosted an entire panel dedicated to young companies doing incredible work in AgTech. At the event, Tim Cannon of Livestock Labs presented an implantable health tracker for livestock, creating a new generation of cyborg cows! The tracker eliminates the need for farmers to conduct costly herd-wide health inspections; delivering biometric data straight to farmers' phones. The company's app lets farmers know when a cow is in heat, has fallen pregnant, or is experiencing distress or danger. Farmers can also view the current and predicted health status of individual cows.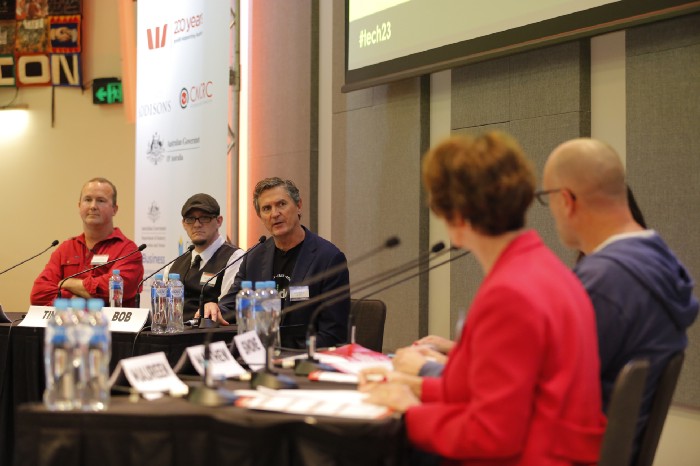 David Finlay (Moisture Planting Technologies), Tim Cannon (Livestock Labs) and Bob McKay (AgriDigital) taking part in Tech23 2018's AgTech panel.
Also at this year's event, Bob McKay of AgriDigital shared a blockchain solution to revolutionise the grain supply chain. The story of its founders, Bob McKay, Ben Reid and Emma Weston, is a terrific example of local innovators tackling great global problems. Building on over 80 years' combined experience in agriculture, the AgriDigital team sought to eliminate factors slowing down processes in the agricultural supply chain, such as double-entry, manual handling, the difficulty of matching payments with title and asset transfers, and an ultimate lack of transparency and trust. "[M]anaging grain from farm to consumer should not be so complex," Ben explains.
In response, the team created AgriDigital — the world's first cloud-based, multi-participant, commodity management platform. In a sign that the technology has the potential to make an impact on a global stage, the AgriDigital platform is set for a release in US and Canadian markets early next year. A release of their blockchain protocol will come shortly after.
With a similar aim of simplifying agricultural processes, David Finlay from Moisture Planting Technologies unveiled a new planting technology to help farmers know more about their soil conditions in broad-acre cropping. The team from Orange, NSW have built sensors into a planter to allow for real-time monitoring of soil conditions. Using this data, the planter then automatically makes live adjustments to seed depth and seeding rates. Building off the fundamental principle that not all farms are the same, the product offers a customisable, cost-effective alternative to traditional planting processes.
Reflecting back almost a month after Tech23 2018 wrapped up, we're still buzzing over the potential of these companies' innovations. Be sure to keep your eye on them to see how they grow and flourish in years to come!
If our story is to be green, if it is to be sustainable, if it is to be equitable - we need game-changing tech companies. We need the research, the organisations that create and nurture these companies, the founders who lead them, the supporters that invest in them...